Yeah, I've not been writing for a while. Blogging is a seasonal thing for me as I will usually write when there things to tell.
Life is great and I am already in my holiday mood. On work, I am due for peer review presentation and am all nervous about it. Wish me luck :D
Other than that, I've been busy taking care of a cat name Meena. Such an obedient cat she is, and lovely too. She goes wherever I go. When I am watching telly, she patiently waited for me until the show finishes. Most of the time she will fall asleep. After the show ends, I straightaway go upstrairs without waking her up from her peaceful sleep. But she is so sharp that she automatically awake and together we make way to our room and spend our night together.
She is a petite cat, small paws, soft voices, so cute that I am never tired of kissing her. I think about her from the office and always want to go back early so I can be with my Meena. Whenever I come back from the office feeling tired and sluggish, Meena would bring the shines back on me. No wonder they say keeping a pet can lower your stress down. It trully works.
I was suppose to babysit Meena because nobody is at home when my fiance was off town for Hari Raya Haji holiday. But since she is so adorable, I told my fiance how lovely it would be if he could extend Meena's stay at my place. I've even offer him Socks, my handsome kitty to accompany him while Meena is away. He has no problem with Meena staying at my place a bit longer, so I guess I can enjoy my New Year Holiday and watching DVD with this lovely cat :D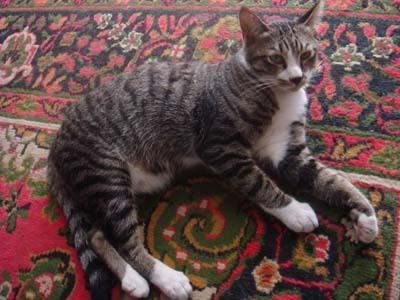 This is Socks and he is in love with Meena
Happy New Year People!