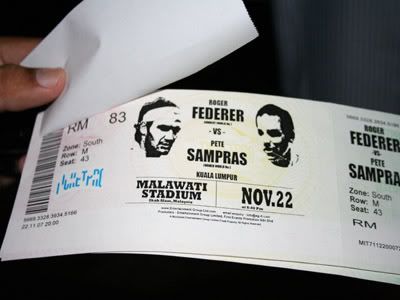 I purposely enrolled myself for "Covey's 7 Habits of Highly Effective People" at the Company's course center, so I am obliged to leave early on that day. Leaving early means to dismiss at 5 on the dot, which sounds irrelevant if I were in the office (in KL!). Our strategy was to skip the traffic jams and arrive no later than 8PM in Stadium Malawati for our big date. You see, I am actually applying Habit # 1 : Be Proactive and Habit # 2 : Begin With the End in Mind on my effort of becoming effective. I highly recommend you to read Covey's book for better understanding on the 7 Habits which could probably make your life more meaningful. Okay I should stop on 7 Habit because this is ain't a marketing blog.
No word can describe how excited I am to see Federer and Sampras live on action. Although it was only an exhibition game, it's an one-off event to experience the live action at RM83 okay! (The cheapest that you can get). There were few empty seats at the RM253 tiers so we sat leisurely for a few minutes until we were being washed out by the seats owner (politely) HAHA. Not much difference being in RM83 tiers to RM253 tiers, so I feel no regret for investing on two RM83 tixs for myself and my bf. It was a special treat for him since he loves tennis so much. And it was a special date since both of us share the same interest on the sports.
Federer emerging victorious after wining both sets on tie-breaks in the over 90 minutes game. Sampras however awes the audiences with his blistering 200++kph first serves. The highest I saw was 212kph! Few days after that, Sampras post his first win in their three-game Asian exhibition series at their last pit stop in Macau.
Sampras lamented that players nowadays are lack of powerful serves and crafty volley and are only taught to hit the ball as hard as they can. This of which reminds me to start hitting the ball again after being in bed rest for 6 months and save my serve and volley from extinction!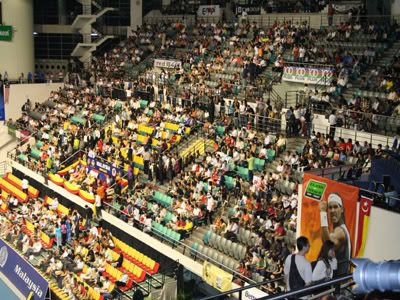 The East Zone of Stadium Malawati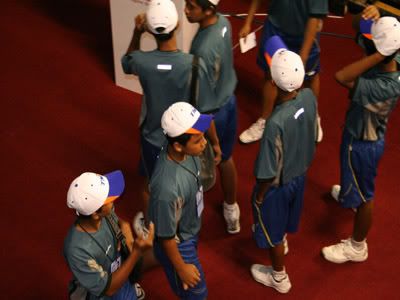 Kamal Hazim I envy you