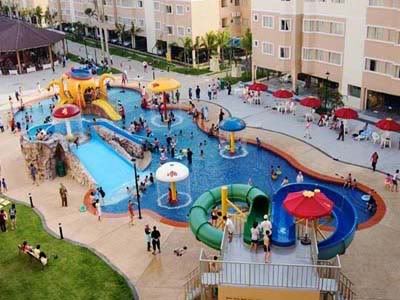 Organized by the Young Professionals, the Away Day was a day full of activities exclusively for the staff and families from the Department. The event took place at
Tiara Beach Resort
in Port Dickson, famously known for its 5 acres man-made water theme park.It was heaven on earth for the kids. 30 X 10 feet water inflatables, high mountain inflatables, children hippo slide, children obstacle inflatables and many more inflatables at the beach park. There were also sand castling area, children's playroom and games room. The maximum depth for the pool is only 1.2m so it's safe for the kids.
Nevertheless, it was a real dismay for a beach lovers like me. I am missing the sound of waves, the laying on a white sand, the sun set by the beach, which is no where to be seen. Sigh.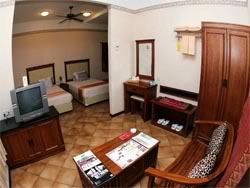 This is our (Suhana and I) twin bed studio. Singletons were to share rooms. Those with families were entitled for family suite. It seems that I'd be sharing rooms for the next few years HAHA. Up to my standard, the room was quite a disappointment. No ASTRO, no bath tub, no
carpeting
with a breathtaking window views of a palm oil plantation nextby (not!). Only one elevator per apartment, which was way far from my wing and made me climb on my own feet up to the 5th floor. And for that matter, the water pressure was struggling making it's way either.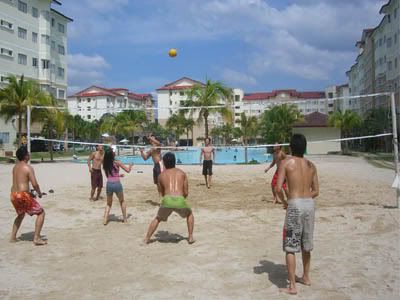 At least the telematch was fun. Colleagues came with spouses, children, babies and families. A time for networking and get to know who's who. We played futsal and beach volley. It was also the time to find out that your serious and workaholic Principal or Staff Engineers was in fact a great footballer.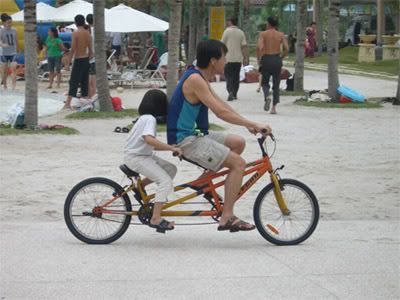 The main gala was the Hari Raya and Deepavali Celebration Dinner. Food, could have been better. Suhana and myself shared the same table with a close colleague of mine, a Korean and his best friend, an Indonesian and few others. Along the way, the audience were entertained with a Karaoke competition. Nothing much to elaborate on a Karaoke competition isn't it? And no word could ever explain when self confidence overriding the singing skills. A total chaos. So there we were, enjoying the music and the food. Luckily, the Draw saves the day. All the anxiety vanished for a while when I was announced as the 1st Lucky Draw winner. Man, that was my first ever debut in Lucky Draw arena, in my 25 years of living. I was expecting a digital camera, which I so desperately need at this moment of time. But it turned out to be a petrol voucher. Boo hoo.

TBR's weekend specialty was movie screening, from 9AM until midnight. That evening it was showcasing Transformer, I'd love to join the crowd but was too tired and walked back straight to the apartment.
On the second day, there were another round of telematch and the climax was Tug of War between every Section in the WATER!
The other 3 Sections were represented with men in big sizes whilst our Section was the only section with 2 girls below 50kg. Modest is size but not in courage ok!

We won the second place.
Coming after that was the closing ceremony and then we checked-out.
Even though TBR was a bit of a dashing hopes, the Away Day was indeed exhilarating.