It was a great opportunity. Nevertheless, I was unconsciously flashing a reluctant smile when I spread the news to my bf. He knows how I hate last minute arrangement, especially when work is pilling up and no news on the baju raya from my tailor.

"
Just go and have fun
" He whispered to my ears.
It doesn't mean anything to you, but it was very soothing for me to hear such encouragement.
Day 1 - 7th October 2007
Being in Boeing 777 means I can enjoy my private TV screen for movies and musics. With hope the in-flight entertainment will be able to keep me survive for the next 6 transient hours. Absolument parfait!! Except for the seats, which could potentially win a Grammy Award for most uncomfortable seat after KTM Komuter.
I was fascinated to watch Jangan Pandang Belakang for the overwhelming reviews it receives. Even Acai, a horror movie freak, put thumbs up for the movie. To Ahmad Idham, for this attempt, your movie scores 2.5 stars out of 5 stars. You movie can do better with an improved version of Apa Yang Ada Kat Belakang tu. The Apa Yang Ada Kat Belakang is bit outdated and static. It needs a make over maybe? I like hantu from the Blair Witch Project. You can't see them but you know they are there. Eerie!
After 2 hours Jangan Pandang Belakang, 2 hours of napping, 2 hours of wondering around and drooling over next passenger's lunch pack, we landed safely at Perth International. I prepared myself for any circumstances and these 2 things had made me the last person to check out.
1. The fact that the space between my name matter much
* Name in passport is Za Lina Teoh , Name is Visa is Zalina Teoh
2. The fact that I am now with hijab but how come the person in the passport is a free hair*?
*Used to be a free hair, now with hijab
After the friendly officer confirmed that the entity in the passport is no doubt, the same person standing in front of him, I was allowed to pass and enter the country. En Ahmad, the Principal Engineer who traveling together with me, and I took a cab and headed to Burswood, 9km from the Perth Airport.
My first impression on Perth was "sunny". Perth is now experiencing Spring. It's very chilly outside, cause me to shiver each time the winds blow by.
For 4 days in Perth, we stayed in the luxurious classic twin bed room at
Intercontinental Hotel, Burswood Entertainment Complex
. Other than allergic to seats, my travelling blues would be staying alone in the hotel room. Even the expensive glass overlooking the city views and the hotel pool didn't really help. Having an Adult Channel in the room didn't help either :p.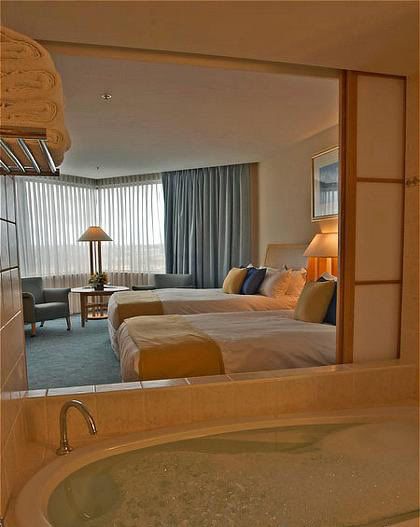 From Bed Can Straight Away Hop In To The Bath Tub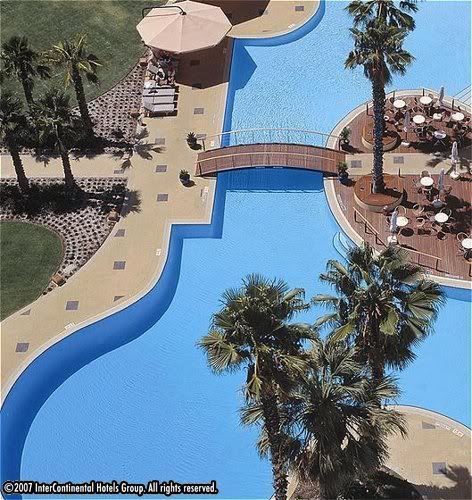 The Scenery from My Bedroom Window


I shop where ever I go :p, so later that evening, we went to shop for titbits at the nearby grocery store. My pocket bleeds from the currency exchange at 1AUS = 3MYR. Suprise to see our local delicacies like beef rendangs sold at the grocery and nasi lemak and roti canai served in the hotel. It is great to see Malaysian food at this far.
I cried into tears when I saw the Twirl bar at the chocolate section. Twirl used to be my favourite chocolate bar but it was discontinued somewhere in the 90's for what reason I am not sure. Oh, am surely going to enjoy 5 days in Aussie in euphoria.

Twirly Whirly Delight
At the welcoming dinner, the Workshop Co-Chairperson welcomes the participants. It was an informal ice breaking session where En Ahmad and I didn't stay for long. Meet another Malaysian, a Schlumberger drilling engineer whom is currently based in France. After that we retire for the night.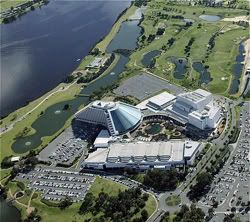 An Entertainment Complex that includes a casino, hotel, golf course, day spa, several restaurants, bars and nightclubs

Day 2 - 8th October 2007
The sunshine by the window woke me up and was kind of suprise to see it was only 6 in the morning. Day 2 was a busy day. The event went on from 9AM until 6PM. There were another 5 participants from the Company. The Applied Workshop was on Capture and Storage of CO2. As we all know, CO2 has been the greatest contributor to global warning, predominantly from fossil fuel burning which originates mostly from energy industry. Therefore it stirred the industry to act to reduce excessive emissions of CO2 to atmosphere by capturing CO2 emissions at the source itself, and to find alternative use for CO2 other than securely storing them in subsurface reservoirs i.e geological sequestration. The ATW workshop sees the congregation of geologist, reservoir engineers, researchers, stakeholders etc to discuss further on this issue.
For Berbuka Puasa, we took a cab and headed to Perth City. We break fast at Love and Care restaurant, owned by a Johorian whom has been living there for 13 years.
A plate of Nasi Pataya and a glass of teh tarik costs me AUS10 (approximately MYR30). The taste could have been better. After the final sip of my mild teh tarik, I could not agree more on the phrase "Food in Malaysia - Excellent in Taste" than Malaysian food in (fill in the blank).
After that we walked around Perth city - Murray Street. The city sleeps early, business retire at 5pm, except for souvenir shops and grocery store. It's indeed a cool spring in Perth.
Interesting fact to capture :
Did you know what there is no time difference between Perth and Kuala Lumpur?