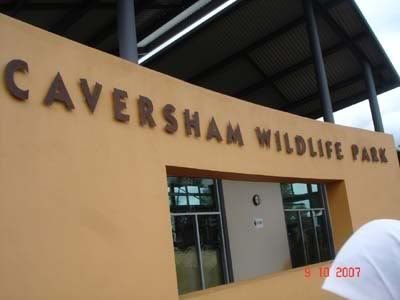 Day 3 - 9th October 2007

Greetings to kangaroos and cros! (the animal not the shoe) So on the third day, the session finishes early as the entire afternoon was slotted for recreation cum networking activities. Blithely Farinda and I choosed to network with the marsupials of Australia. Oh I haven't introduce Farinda haven't I? Farinda is a geologist whom is currently working on high CO2 gas fields in Malaysia. Even though we have known each other for only 24 hours, we seem to share the same "must do's" in Australia i.e to see the koalas and kangaroos! Today would be would be a good day to see them isn't it?
Perth Zoo is nearer to Burswood, nevertheless we were captivated by the fact that
Caversham Wildlife Park
allows wombat/koala cuddling and kangaroo feeding. Cohunu Koala Park on the other hand, is just too far; approximately 30km from the city. So Caversham Wildlife Park it is; preliminarily magnetized by just reading the brochure.
The boys never bothered to join us, they opted for vegging out to Perth City and shops like a girl.
To go to Caversham, it's more economical to board on the public transport. Here's how:
1. From Burswood, ride on the van shuttle to the train station, complimentary from the hotel
2. Take the train to Perth City and hop into the bus No. 60 to Morley.
3. Change to bus No. 336 to Ellenbrook, off at Whiteman Park where Caversham is.
The downside however, is time consuming. Since Caversham closes at 5PM and min&hour are the constraint, we had no choice but to take a taxi straight away to Caversham. It costs us AUS35 and the ride took approximately 20 minutes.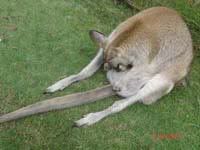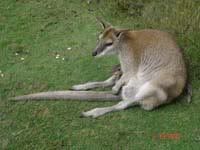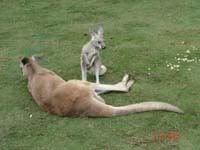 Invest on AUD17 for a spectacular array of native Australia wildlife in Caversham. A simple map was provided, complimentary from the park, just to make sure you will not get lost while in excitement. As there were to many to hold in one hand (the camera, the map, the pinpointing with the mouth talking), careless me dropped off the precious camera and the rest is history. Forlornly, after 5 years of its tenure, my Sony DSC decided to call it a quit and choose it to be in Australia? Sigh. Farinda was kind enough to offer an equal share with her camera but it would not be the same. Everything seems nothing compared to your own.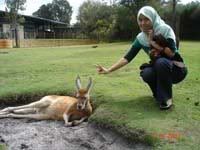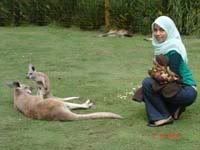 Putting on my yellow thinking cap to ignite my logical positive senses and and inhaling as much as O2 as I can, I will not let this challenge ruin my mood for the day. As an avid Sony user, fixing the damage is the last thing to do, considering the camera is 5 years old now. I aint cheap I tell you. Knowing it all after I ditch spending RM400 on a brand new casing for that old and scratched baby. Everything happens for a reason and the valid reason for this one - Start eyeing for a brand new camera, a SLR maybe? :) *grinning*
All shots you see was taken earlier on, while we were at kangaroo enclosure. In the spacious enclosure resides a big family of happily hopping, very friendly and lazy kangaroos and wallabies and a lost peacock, whom untiringly showcasing its extravagant plumage here and there when no one seems to bother. I have only known that wallabies are smaller than a kangaroo/wallaroo, but since they all do not differ much, I have no idea the macropod is either a kangaroo, a wallaby or a wallaroo. They all looked the same! One that caught my attention was a mommy and it's baby joey which I think is a wallaby. Cute and adorable!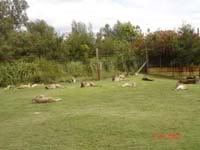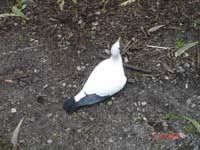 We held a 27kg smelly wombat known as Barb. The other one is Jenny. I particularly liked the wombats, which are possibly the cutest and cuddly ( even though smelly ) animals I've ever seen. Koala on the other hand is broadly similar in appearance to the wombats but with bigger nose. Koalas are shy and sleeps most of the time.
Mr Koala's pad is less spacious than Mr Garoo's where himself and his 3 wives and joeys reside. None of the family members were in a good mood for cuddling session. :(. It is stressful for them, the attendant says. I reckon, the pinching, patting and harsh stroking that comes along makes cuddling unfavorable for Mr Koala and family.
Besides koala, kangaroos and wombats, there were countless of others and there is no need for me to describe on sheep, goats, chickens and buffaloes in Caversham. Go figure it yourself.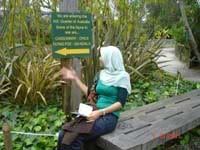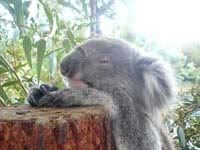 After 2.5 hours of networking and recreation, it's time for us to go. Before heading back to Burswood, clever Farinda told the taxi driver to drop us at Harbour Town, Perth only dedicated Outlet Shopping center. Along the way, Mr cabbie, a friendly Iraqi guy was feeding us with the his life story in Australia. Being friendly in return was the right act to play and he kindly discounted the taxi fee, we ended up paying AUD30 for the ride. He even recommended us to try the halal kebab, sold by another Iraqi friend of his at the mall.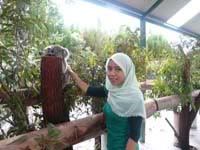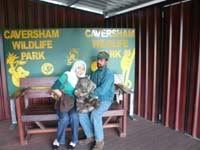 For me, traveling is the time to enjoy and experience the country's authentic and own specialty, thus shopping complex or even designer's outlet center is not really a place I look forward to. I can get my Armani even in KLCC. But definitely and without doubt, Coach is a must-buy if you are in the States.
Unfortunate Farinda ends up buying nothing since in few minute after the arrival the shops were all closing. We manage to cure Farinda's broken heart on the halal kebab :) Getting a taxi back to Burswood after 5PM was not easy. Traffic was slowly building up after the office hour. But it is still manageable compared to KL massive traffic. Oh how serene and peaceful if I were stay and work in Perth.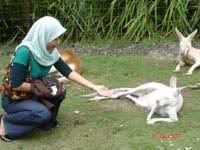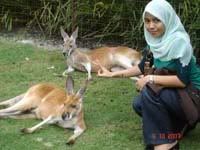 Back to Burswood, we missed out the optional activity at 6PM and headed to Perth City instead. It was nearing to break fast, tried our luck to contact the boys so we can meet up for dinner but to no avail. So hookay, not a problem. Being "All the woman who are independent" as Beyonce sings it, we opted for our own "late evening shopping" at Murray Street. Farinda conveys her frustration at Harbour Town by splurging on chocolate and nougats. It is cheaper to shop for souvenirs in Freemantle but since we are no sure on going to Freemantle, I decided to bargain everthing in Oleh Oleh, one of the souvenir shop in Murray Street that offer the same prices as Freemantle prices. The sales girls was even a Malaysian whom is currently studying in Curtin University. The most expensive I paid was AUD3 for the fridge magnets and cheapest at AUD2 for the the koala bears. In between were tea towels, keychains, postcards for families, friends and my bos.
9PM in Perth feels like 1AM in Malaysia so it's time for us to go home. I so need take the Eau de Wombat off me. We took a cab to Burswood. Mr cabbie was not very friendly this time.
*"All the woman who are independent" - That's us. HA HA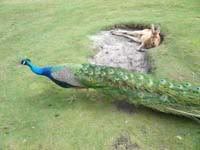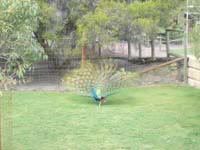 Wow it was indeed a busy day, my feet was aching but overall it was helluva fun. The biggest regret however was not able to have my picture taken cuddling a koala.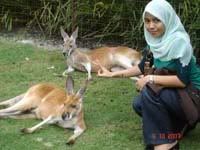 Interesting fact to capture : A marsupial's baby is called
Joey