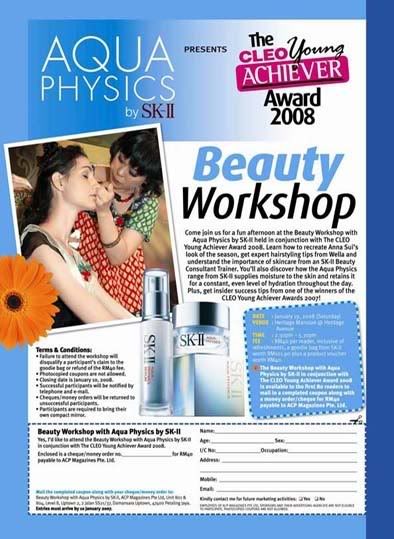 As a SK-II voodooed user, my entry form must have safely arrived few days after the January issue was published. A goodie bag worth RM101.90, product voucher RM40, hairstyling and make-up tips for a RM40 entry fee? You gotta be kidding! It is definitely a compulsory workshop to be at.

And CLEO was very kind to put me on entitlement to enjoy a 50% discount on the workshop fee. Am not sure whether this offer is valid to everybody or only to yours truly. So tomorrow, early in the morning, Zal must call CLEO, check things out and redeem the 50% discount okay.
Fired to attend now? Go grab a copy of CLEO magazine January edition, fill in the form, and send in the fee by Friday, January 11 (which is tomorrow!!) to enjoy this special discount. First come first serve basis.