So I am suppose to share 7 facts about myself in this entry. Virus origin :
Ozy
. Here it goes :
1. I never had a fractured bone
While mum was having me in her belly, she was avidly interested in cheese. Cheese supplies great deal of calcium, protein and phosphorus and that habit endowed me a strong, healthy and fracture-free bone :)

2. I don't watch too much of TV because...
I think it's a waste of time. Please don't get me wrong, it is not that I against the TV completely. I do get doses of news, live sports action, music and fashion videos, traveling documentaries, cooking show and I love National Geographic and Discovery Channel. Simply said, I am very picky of what I tune to. I go for DVD marathon for Grey Anatomy, Prison Break, SATC etc. What have really killed TV? My reading, Internet surfing, shopping, cooking and baking, tennis, cat, and the list go on.

3. I am 26 and I only have 28 teeth

Please. That does not mean that I am abnormal. As an orthodontic patient, I need to sit for four extractions in 2000. To those who does not understand clinical terms, I was on it for my braces lah :E:E
4. 4 things I can't live without
Besides cell phone, cash, credit cards, key and what not, these are on the top of my list. My days are incomplete without them.
- Lip gloss
- Eyelash curler
- Facial blotter paper
- Kiwi Kleen fabric starch spray for an easier ironing and smart crisp scarves and clothes. No more bad hair day!
5. HUET phobia
BOSET is a compulsory course before being certified with a offshore safety passport. Part of BOSET is HUET which is a short form for Helicopter Underwater Escape Training.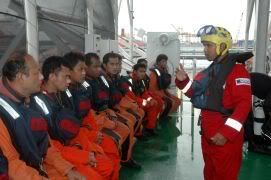 And finally, step no 7.....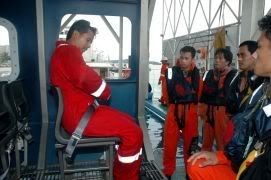 The purpose of seat belt is to hold you still during big impact. Safety helmet will protect your head from hitting the helicopter wall. In some fatal cases, victim is unconscious after hitting the helicopter wall and fail to escape.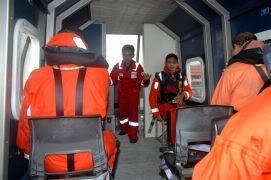 It depends, some simulation is a 4 seated heli, some is a 2 seated heli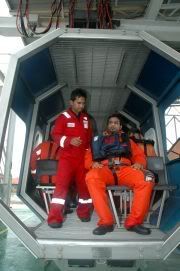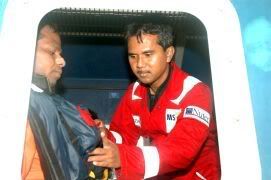 The Emergency Breathing System is a new implementation and now compulsory in Peninsula and Sabah/Sarawak region. With EBS, you will be breathing with your own air for 30 seconds, which is sufficient for you to release yourself from the safety belt and find your way out from the confined space. At that time, congestion while rushing to find way out is among the hazard. When I did my HUET, there were no EBS and I was left to complete all of that just with whatever air I have in my lungs and I was panic too.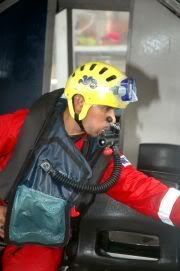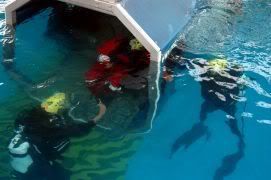 The first collapse is normal collapse (180 degree). The second collapse is a 360 degree collapse meaning that you will be upside down and ready to face a torturing moment of water up your nose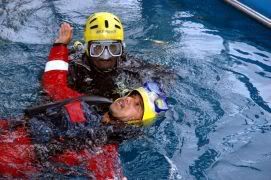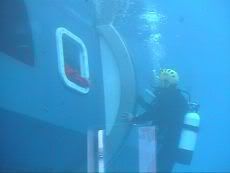 If you fail to escape, the instructor will save you. But afraid that will not happen in real life!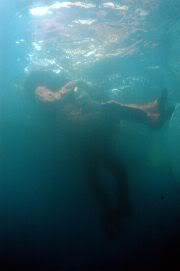 Die ni mesti fail ni. This is a 4 m deep swimming pool!
I hate HUET! I passed my HUET even though without distinction. I did my second HUET with EBS, which is more simple and less panic because you have supply of air for you to breath. My offshore safety passport will expire in 3 years time so the my next HUET will due on 2010. Yikes!
It is not easy to find oil I tell you. And people still want to bitch about global oil price hikes.
6. If I were to put in a celebrity's shoes for one day, who would it be?
Victoria Beckham & Angelina Jolie for David Beckham and Brad Pitt and why?
A family man, a yummy daddy is an in thing now days. I see being responsible as sexy. A family man+ a sports man is a double bonus.
* I have a secret crush on David Beckham :p (not secret anymore...)
7. I get irritated and annoyed with
- People referring them self to ma : ma bf, ma this, ma that. Eeewww!!
- MiXtuRe of sMaLl aNd BiG cApItAl lEtTerS
- Slow drivers on the right lane
- People standing on the right side of an escalator and blocking who are in a rush
- Motorcyclist in the middle of my lane
- Sean Kingston. He sucks!
Now is your turn :
1.
Sasa
2.
Jes
3.
Izzu
4.
Sue
5.
Fiza
6.
Any of YSL ladies
7. You